About
To return to the home page just click on Literary Exchange at the top.
About Literary Exchange
The idea is to write about great books—especially by Brazilian and other Latin American authors, but not exclusively, share life experiences—frustrations and successes, the craft of writing—the new and traditional ways writers can share their work, and all that comes along. I also vent about my struggles as a mother and wife on double duty trying to keep a job, and working to maintain my family affairs running as smoothly as possible. Oh, make that triple duty, I also am dedicating some time daily to work on my craft as writer.
About me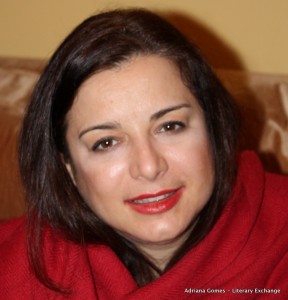 I'm the mother of two lovely and spirited girls at the challenging ages of thirteen and seventeen, I have my hands full. Luckily they are avid readers so we have solid ground for normal conversations amid the drama. We have a little dog called Pipoca – popcorn in Portuguese – it's a mixed breed that looks like a Shih-Tzu so that's what I tell every one. I guess the secret is out now.
I'm from Brazil originally and moved to the US nineteen years ago, when the American company my husband used to work for transferred him to Florida. That was the first of many moves we've been through. We even lived in China for a year.
I started writing when I was a teenager and quit for many years. You know, work, motherhood, all that moving around, a little cancer, a lot of farewell parties. I'm rather good at farewells, not that it's a pleasant trait to acquire.
I live in California now, where I work as Manager to the Berkeley Youth Orchestra and attend U.C. Berkeley Post-Baccalaureate program in writing. I'm currently collecting lovely rejection letters as I develop my craft.
To return to the home page just click on Literary Exchange at the top.